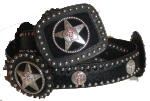 Check out everything we just got in for the new season! Gorgeous belts with pearl stone and crystal conchos on genuine full grain leather pair up beautifully with your favorite pair of jeans!

Top grain leather and cowhide belts accented with a variety of beautiful colored Czech crystals and nail head trim. Matching 3-piece buckle sets are included.
†

Genuine hand-tooled leather belts with designer conchos, Maltese crosses and cowhide insets. Trimmed out with nailheads for a finishing touch.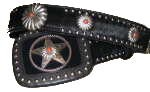 Top quality turquoise, onyx, mother of pearl, and coral colored stones adorn the oval and butterfly conchos on genuine leather and inlaid cowhide belts with matching buckle sets.


These unique crosses are hand made using the same conchos as our belts and mounted on various fabrics to compliment the colored stones and crystals on the conchos. Framed in rustic barnwood. Available in large and small frames.



Our new line of necklaces featured here are hand made from the same conchos used to make our belts, so they coordinate perfectly. Available in both Brown and Black heishi.